Held monthly, Wednesdays
7:30PM-9:30PM (See monthly calendar for dates)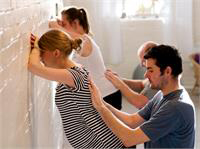 Yoga for Labor offers expecting moms and partners an opportunity to learn a variety of tools that will prepare them for a more peaceful labor experience. We will explore yoga postures that open hips and the pelvis, helping the baby move into ideal positioning. We learn simple yogic breathing practices that calm the mind.
Partners will be taught how to give hands-on support to help mom cope with the challenges of each phase of labor. Partners will feel much more confident and prepared with simple tools they can use to make labor easier for the expecting mom.
This workshop is usually taken sometime during the third trimester. This is offered once a month as a group class and private instruction for couples and smaller groups can be arranged as well.
Payment & Registration
To register visit http://www.pranayogaandmeditation.com/login.html to log in or create an account prior to your first class.
To learn more about our yoga and meditation workshops, including the latest additions, visit pranayogaandmeditation.com/workshops
Dee Yergo, Class Facilitator
BA in Literature/Creative Writing from NYU
300+ Hour Trained Yoga & Meditation Teacher
Certified Pre-Natal/Post-Natal Teacher
Certified Professional Life Coach/Spiritual Mentor
My yoga journey began 18 years ago when I attended a pre-natal class while pregnant with my first child. My practice waned considerably over the years that my three children were toddlers. When their dad ...
Location, map and directions
Repeating classes are held at:
Full Circle Women's Health
450 Mamaroneck Ave. Suite 414
Harrison, NY 10528
(914) 421-1500
View our directions
View on Google Maps