(for future dates, please visit pranayogaandmeditation.com)
The Yoga Mama Workshop series is tailored for new moms and moms of young children.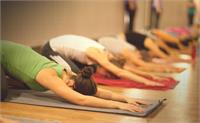 The workshops begin with a one hour yoga, meditation and deep relaxation. This soulful physical practice is followed by a discussion on rotating topics that are important to our yoga mama community.
This workshop is for women only. Please make childcare arrangements so that you can relax and enjoy.
If unable to register contact us for waiting list options: pranayogaandmeditation@gmail.com
Payment & Registration
To create an account and register for the class, please visit http://www.pranayogaandmeditation.com/login.html prior to your first visit
Dee Yergo, Class Facilitator
BA in Literature/Creative Writing from NYU
300+ Hour Trained Yoga & Meditation Teacher
Certified Pre-Natal/Post-Natal Teacher
Certified Professional Life Coach/Spiritual Mentor
My yoga journey began 18 years ago when I attended a pre-natal class while pregnant with my first child. My practice waned considerably over the years that my three children were toddlers. When their dad ...
Location, map and directions
Repeating classes are held at:
Full Circle Women's Health
450 Mamaroneck Ave. Suite 414
Harrison, NY 10528
(914) 421-1500
View our directions
View on Google Maps